EltaMD® Sunscreen Products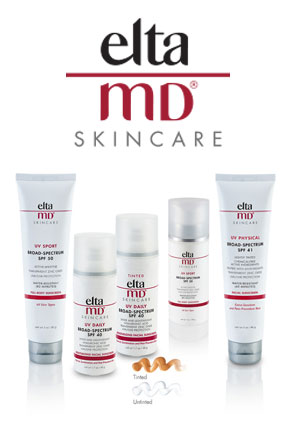 EltaMD® sunscreens help prevent sunburn and decrease the risk of skin cancer and early skin aging caused by the sun, when used with other sun protection measures. EltaMD® sunscreens are formulated with transparent zinc oxide and are noncomedogenic, sensitivity-free, fragrance-free and paraben-free.
UV Daily Tinted/Non-Tinted SPF 40
Serious UV protection and superior hydration join forces in this sheer facial sunscreen. EltaMD® UV Daily has hyaluronic acid to boost moisture retention and diminish fine lines. This lightweight moisturizer with UV protection can be worn alone or under makeup. Choose from tinted and untinted formulas for use every day.
UV Clear Tinted/Non-Tinted SPF 46
Oil-free EltaMD UV Clear helps calm and protect sensitive skin types prone to discoloration and breakouts associated to acne and rosacea. It contains niacinamide (vitamin B3), hyaluronic acid and lactic acid, ingredients that promote the appearance of healthy-looking skin. Very lightweight and silky, it may be worn with makeup or alone.
Not sure which product is best for you?
Book a free cosmetic consultation today online or by calling 204-474-1221.