Dermatology
Dermatology is the branch of medicine that deals with the prevention, recognition and treatment of more than 3,000 diseases of the skin, hair and nails. In Canada, medical specialists certified to practice this branch of medicine must have completed both a medical degree and 5 years' advanced medical training in Dermatology to become a Dermatologist.
Cosmetic Dermatology is a sub-specialty that requires additional medical training to provide effective treatments for appearance-related skin conditions.
Who provides your dermatologic care? Training matters.
Board certified dermatologist (DO/MD)
Non dermatologist physician
Nurse practitioner (NP)
Minimum years of education AFTER COLLEGE
8 years, including
medical school and
dermatology residency
6-8 years including medical school and a non-dermatology residency
2 years NP school
(may be online)
Medical internship
1 year
1 year
None
Formal, supervised dermatology training
3 years dermatology residency, accredited by RCPS, ACGME or AOA
0 to 3 months of elective time
None
Testing of competency in dermatology
Dermatology board exam
None
None
Minimum patient care hours required PRIOR to unsupervised dermatology practice
12,000-16,000 training hours, mostly in dermatology
None
500 training hours
in primary care
Board certification in dermatology by the ABD or AOBD
Yes - look for the letters FRCP, FAAD or FAOCD after your physician's name
Not certified in dermatology
No
Dermatologists - Your Skin Experts!
Don't settle for less. You deserve the most knowledgeable person to help your skin.
The Skin
The skin is the largest organ of the body. It helps you to sense / touch the outside world, to regulate your temperature, and to protect you from bacteria and viruses that cause infections. It is generally comprised of multiple layers of tissue and guards the underlying muscles, bones, ligaments and internal organs.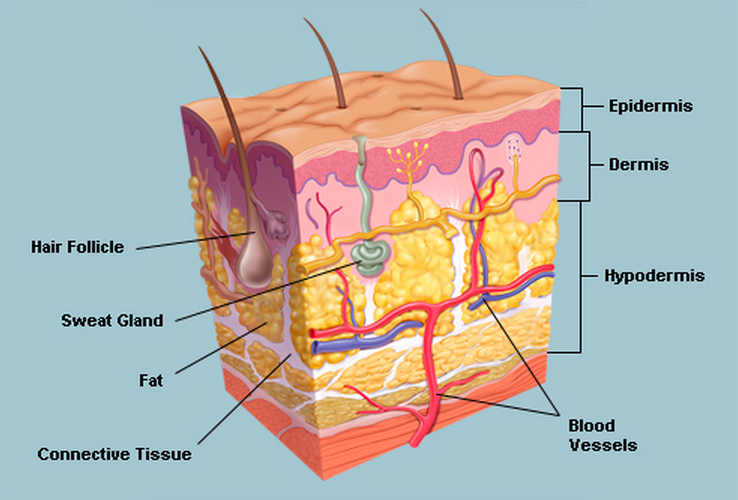 The skin has 3 layers
Epidermis, the outermost layer of skin, provides a waterproof barrier and creates our skin tone.
Dermis, contains tough connective tissue, hair follicles, and sweat glands.
Hypodermis, consists of fat and connective tissue.
Medical & Cosmetic Skin Issues
Common medical conditions treated at The Derm Centre include acne, eczema, rosacea, psoriasis, warts and skin cancer; and common cosmetic concerns include reducing the effects of aging and sun damage such as sagging skin and facial lines and wrinkles, the removal of unwanted hair, and reducing acne scarring. For more information, please click on the links below: